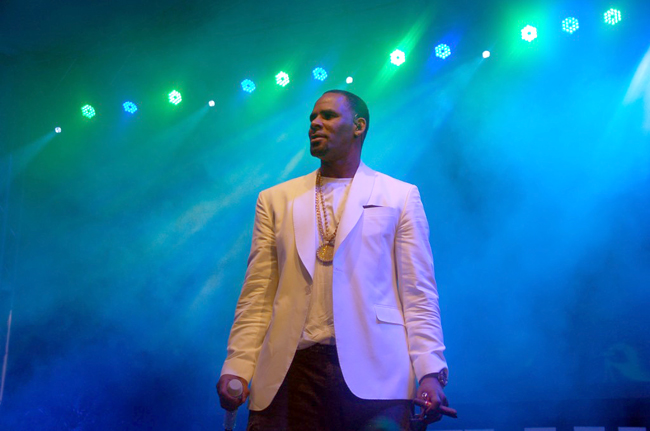 Nassau, Bahamas - American R & B sensation R. Kelly showcased his bump and grind skills emblematically during 'A Celebration of Love' concert on February 24th at the Seaside Pavilion in Arawak Cay.

The Bahamas Minister of Youth, Sports, and Culture, Daniel Johnson, gave remarks prior to Kelly's performance conveying to the 'women-only section' in front of the catwalk, the most coveted front stage area of the pavilion, that it was in fact, "A No Underwear Zone." Johnson also advised the guys present to "hold on" to their girls tightly. At that point many of them could be seen clutching the hands of their wives and girlfriends, almost with a zip- tight grasp, in case they were either snatched away by the crooner himself or slipped away-seduced by his bedroom balladry rhythm and groove.

When Kelly came to the stage around 10:30pm the crowd went completely out of control. From exaggerated smiles to uncontrollable screams from the zealous fans, there was certainly no room for doubt that he was well received and loved. He donned a white traditional American-style blazer paired with a white crew neck t-shirt, indigo denim jeans, and a pair of white throwback kicks. To accessorize his ensemble further on, Kelly wore a studded diamond pendant that glistened at every turn. And just in case it wasn't enough of the sparkle, he sang with a cordless microphone encrusted with a diamond like effect.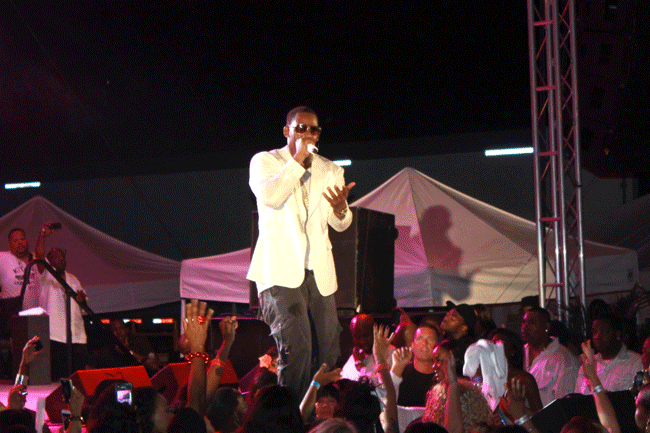 Under the white seductive tents the Grammy Award winner began his hour-long performance with a medley of smashing hits which included "Bump n'Grind" from his 1994 first solo album 12 Play. "Freaky in The Club", "Fiesta" , "Ignition" and while performing "12 Play", in an attempt to stir up a little more fire, he allowed himself to be groped for nearly sixty seconds by one of the Bahamian ladies, who certainly didn't shy away from his assets. This of course was the crescendo of the night's bumping and grinding, not crassly explicit, but just suggestive enough to elicit screams and to have women licking their lips the rest of the night away.
Kelly went on to perform "When a Woman's Fed up", "Step in the Name of Love" which won two Billboard Music Awards in 2004 for Best Top R&B/ Hip-Hop Singles/ Airplay. Kelly's use of the dramatic pause while performing was nothing short of riveting and left the audience craving for more. While R&B performers like Usher and Justin Timberlake attempt to be silky with their moves, there's certainly no artist in the industry who's seductive flair is more capable than vintage Kelly.
My favorite part of the night was the "I Believe I can Fly" performance. This song has been the greatest musical accomplishment for the Chicago born star, earning him 3 Grammy Awards in 1998. He won the (1) Best song written specifically for a motion picture category, (2) Best R&B song and (3) Best male R&B vocal performance. His Nassau performance of this song was an awe-inspiring moment. The audience interacted with each other, and there was a spirit of love and unity intertwined with a spirit of peace. Men and women could be seen with outstretched hands, almost in a soaring like position like that of an eagle, embracing the full impact of the anthem's compelling lyrics. This was the only song of the night in which Kelly attached the microphone to its accompanying stand. It exuded formality. The crowd sang in unison and passion, while Kelly sang to his heart's content, also at times with outstretched hands in what I would consider the most poignant performance of them all.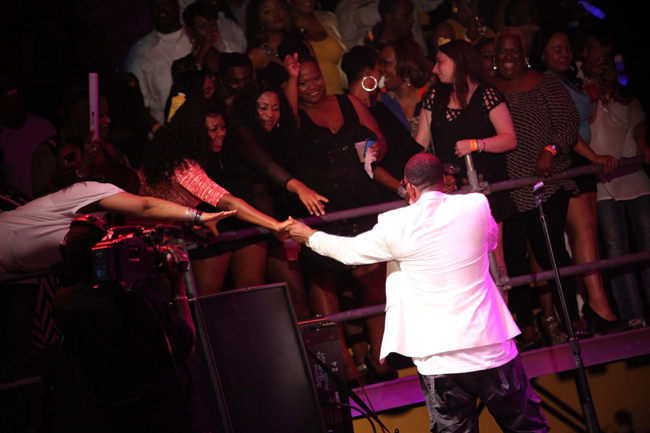 In an industry saturated with ego's, stage tricks, and a mindset to deliver 100% perfected vocal dynamics, many R & B / pop superstars fall into the cheating temptation of lip synching ballads during live concert events and televised broadcasts, but Kelly's first-time performance in The Bahamas was the quintessential contrast, proving that it could be done smoothly without resorting to overpowering choreography, pyrotechnics or pre-recorded renditions. The audience was blown away, not just by his edgy gyrating moves, but by his singing and skill set to communicate each song's message during a live performance.
"He had so much energy, consistency, stamina and charisma", concert goer Shevon Dillett said enthusiastically. However when asked to play the devil's advocate on pointing out a single bad thing, she absolutely couldn't. "It was the best concert ever to be held in Nassau. But I guess if there was one bad thing, perhaps his one-hour performance was just an hour too short, because it certainly could have been longer."
The R. Kelly's Post Valentine Celebration of Love concert was a collective effort. The opening acts consisted of Eleutheran dance queen, Gia Miran, who opened up with "Girl on Fire" by Alicia Keys, and Sketch Carey, the son of Patrick Carey from the world renown and one hit wonder trio Baha Men performed a few originals including, "My Candidate" and "Wine For Your Man". Other acts included Dee- Jay Mel from out of New York and indie recording artist Darnaa who performed her hit single "Runaway". The night's event was produced by Fresh Entertainment Bahamas and hosted by 'Special K' of 100 Jamz and sponsored by Heineken, Breezes, 100 Jamz and various other contributors including Kasimu Ellis and staging was provided by Burton Wallace of the Movi Group.
Overall the R. Kelly, 'Celebration of Love' concert was a success on many accounts. For one, it started on time and two it was the audiophiliac's dream come true. The high quality sound remained consistent throughout the night void of any annoying feedback. And so with an astute observation, I can declare that mothers, dads, grandpas, granny's, sons and daughters, all alike enjoyed themselves. Although I'm not an R. Kelly fan, I can still acknowledge the success of a concert well done, but Kelly the next time you're in town try giving a little bit more eye contact. "Try losing the shades at night!" Hence I've given this performance a rating of four golden stars. Until next time, I'm out!